Alfred Merrill "Al" Worden (Col, USAF, Ret.)
1932 — 2020
NASA Astronaut and Apollo 15 Command Module pilot, Col. Al Worden, USAF (Ret.), died in Houston, Texas, March 18, 2020, at age 88.
Al Worden was an American astronaut and engineer who was the Command Module Pilot for the Apollo 15 lunar mission in 1971. As one of only 24 people to have flown from Earth to the Moon and back, Worden made a career of breaking through barriers and stepping into the unknown. First in his family to go to college, he graduated from West Point then served in the Air Force, earning his wings as a test pilot before being selected as a NASA astronaut and ultimately landing in the Command Module Pilot seat on Apollo 15, the most scientific mission in the program.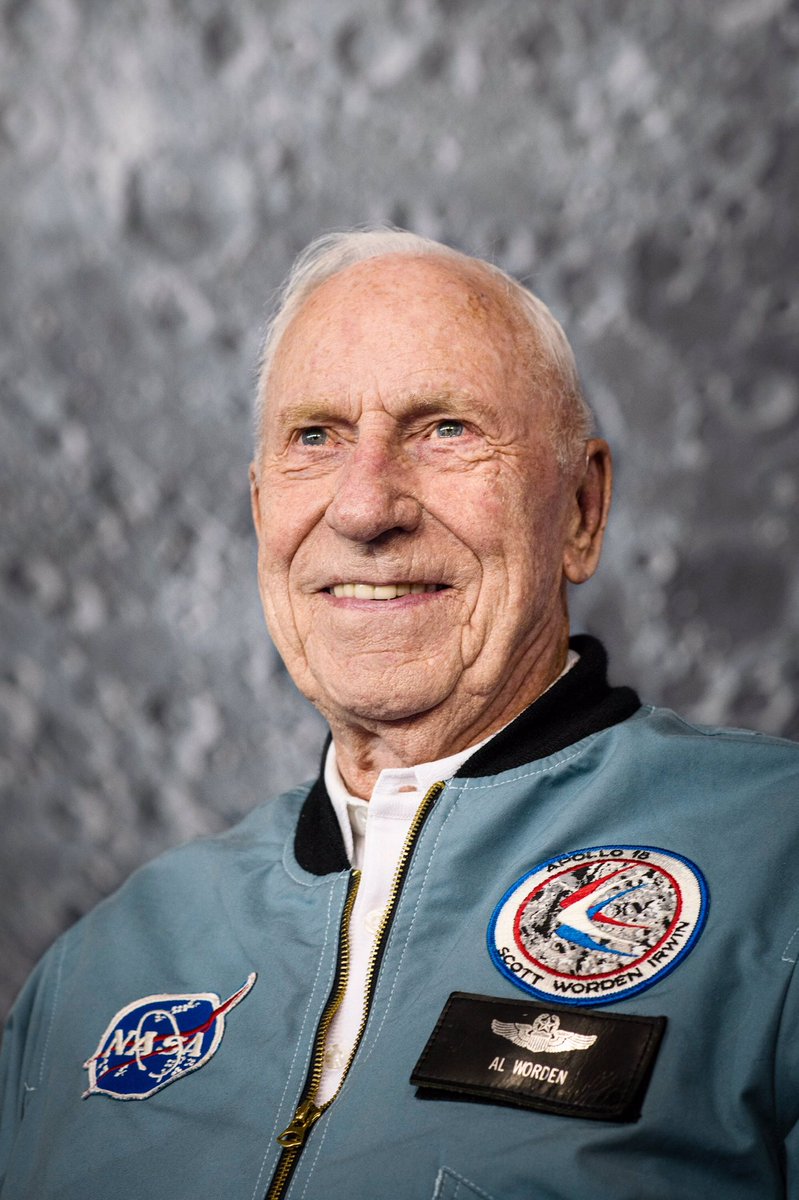 In the decades following his historic 1971 mission, Worden applied his business acumen, technical talents and passion for innovation to a wide range of interests in industry, academia and public service. In particular, he was an active advocate for the future engineering workforce, passionate about education and the development of collaborative global technology and the sharing of knowledge. As a global advocate for science, technology, engineering, and math (STEM) education, his goal was to encourage young students to pursue careers as engineers.
In 2015 Kallman Worldwide was fortunate to have Al join us as a goodwill Ambassador to the aerospace industry and the tens of thousands of aviation enthusiasts who attended the 2015 Paris Air Show.  That was the first of what would become twelve "missions" with Al supporting the USA Partnership Pavilion at major international trade shows throughout Europe, Asia and the Middle East.
At the Paris Air Show in June 2019, Kallman Worldwide announced the Astronaut Al Worden Endeavour Scholarship Foundation.  The Scholarship was a source of great pride and enthusiasm for Al as it brings together students and educators from around the world in celebration of who they are and their common passion for STEM.  Al's and Kallman Worldwide's shared vision becomes a reality as nearly 40 students and teachers from nine countries win the opportunity to experience the challenge, fellowship, and common bonds created by the week-long program at the U.S. Space and Rocket Center's Space Camp in Huntsville, Alabama.
During the announcement ceremony in Paris Al shared, "As a lifelong advocate for education and exploration, I am deeply honored and excited to lend my name and experience to the Endeavour Scholarship.  When you consider the decades of rigor and discipline it's going to take to successfully put people from Earth on Mars, and that getting to Mars is just one of the countless engineering challenges we face on our own planet today, we need to pick up the pace. The pipeline for STEM talent can handle a lot more volume."
Al had a humble and heartwarming personality.  It's been said that for Al Worden there were two kinds of people in the world – "friends and people he hadn't met yet".  Anyone who spent time with Al saw that he treated everyone with respect and genuine interest in who they were and what they were excited about. Though he was focused on STEM, Al's principal message was always to "follow your passion, wherever that leads you".    Tom Kallman, President, Kallman Worldwide
"NASA sends its condolences to the family and loved ones of Apollo astronaut Al Worden, an astronaut whose achievements in space and on Earth will not be forgotten… We remember this pioneer whose work expanded our horizons."  Jim Bridenstine, NASA Administrator
"We stand on the shoulders of space pioneers like Al, and America will always marvel at his achievements and look to him for inspiration as we strive to go farther and faster than ever before…"   Michael Pence, Vice President of the United States.
Read NASA's statement on the passing of Al Worden.
Find a collection of news about Al Worden from NASA.
Learn more about the Apollo 15 mission from NASA.
---